'Rivers of Light' To Debut April 22 at Disney's Animal Kingdom
Disney's Animal Kingdom's first-ever night-time show, "Rivers of Light," will officially debut at the park on April 22. The show, set on Discovery River in the Asia section of the park, will depict an ancient lantern festival guided by two storytellers who call forth four animal Spirit Guides: an Asian Tiger, Tropical Turtle, African Elephant and Great Horned Owl. These Spirit Guides return at different points during the show to lead the audience through their journey through the Rivers of Light. Check out the video below to get the first look at some of the illuminated lanterns, water screens, moving fountains, light projections and other amazing elements that will be featured in "Rivers of Light.
News/Photo source: Disney Parks Blog
New Characters Join Turtle Talk with Crush
When Crush the sea turtle swims up to the "Human Tank" at either Epcot or Disney California Adventure park this summer, he'll be joined by Dory and some of her new friends from Disney•Pixar's "Finding Dory"! You'll be able to meet Destiny the whale shark, Bailey the beluga whale and Hank the "septopus" (that's a seven-legged octopus, of course!). Crush's very own mini-man Squirt will also be swimming by for the first time, and you might even catch a glimpse of Nemo and his dad Marlin.
Disney•Pixar's "Finding Dory" reunites everyone's favorite forgetful blue tang, Dory, with her friends Nemo and Marlin on a search for answers about her past. What can she remember? Who are her parents? And where did she learn to speak whale? Directed by Andrew Stanton ("Finding Nemo," "WALL•E") and produced by Lindsey Collins (co-producer "WALL•E"), the film features the voices of Ellen DeGeneres, Albert Brooks, Ed O'Neill, Kaitlin Olson, Ty Burrell, Eugene Levy and Diane Keaton.
Here's a look at the latest trailer for the film:
Finding Dory swims into theaters on June 17, 2016, and the new additions to Turtle Talk with Crush start mid-May
News/Photo source: Disney Parks Blog
Two New Features Coming to MyMagic+
Two major new features are set to debut later this Spring at the Walt Disney World theme parks.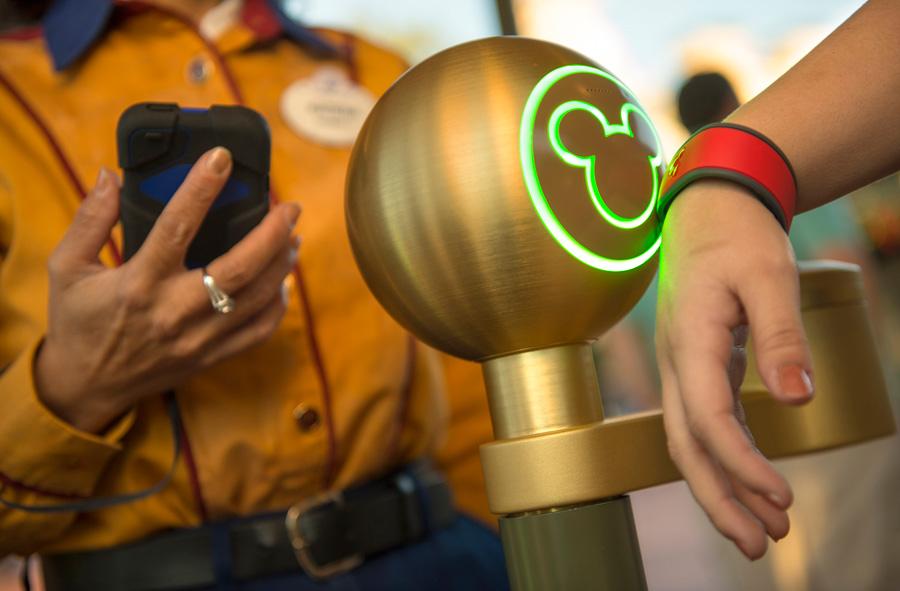 First up is perhaps the solution to one of the biggest guest complaints with FastPass+.
If everything goes to plan, starting sometime around early April 2016, you will be able to make those additional FastPass+ reservations directly from My Disney Experience on your phone. This new functionality will eliminate the need to go to kiosks to make additional FastPass+ reservations after your initial three have been used.
Also set to debut soon is the widespread rollout of StoryMaker, which is the interactive component of MyMagic+ that we heard so much about in the early days of the project. StoryMaker was one of the features that did not make the initial rollout of MyMagic+ due to the complexities with other areas of the system that were deemed to be of higher importance. A concentration of efforts on FastPass+ and MagicBand reliability, along with rising costs put StoryMaker on the back-burner, until now.
Already testing in some areas, StoryMaker allows attractions to interact with guests, using information from the MyMagic+ profile associated with the guest. For example, the "it's a small world" goodbye sequence may know exactly where you are from, or a meet and greet with Mickey Mouse might use your name.
Disney has not yet announced the availability of the new features, so as always, treat as speculation at this time.
News source: www.wdwmagic.com/
New Wishes Dessert Party Available at Narcoossee's
Narcoossee's will soon introduce a limited-time special event at Disney's Grand Floridian Resort & Spa, the new Narcoossee's Wishes Dessert Party. Every Friday in March, Guests can enjoy signature desserts (including cannolis, cheesecake, fruit tarts, brownies bites, and more) and beverages beginning 30 minutes before Wishes starts at the Magic Kingdom Park. Guests can book this experience for $59 per Guest (including tax & gratuity) by calling 407-824-1400.
News source: Orlando Theme Park News
Beaches and Cream Now Offers Alcoholic Floats
The Beaches and Cream Soda Shop at Disney's Beach Club Resort is now offering an alcoholic milkshake and floats. Floats will run you $12, while the milkshake will cost $11.25
News source: https://twitter.com/WDWNT
Diamond Horseshoe in the Magic Kingdom to Begin Table Service Dining
Starting March 13th, Magic Kingdom's Diamond Horseshoe restaurant will begin serving table service lunch and dinner. The menu will be "all you care to enjoy" and will include a frontier salad and cornbread for the table to share. For entree's you have a choice of BBQ pulled turkey served over cornbread, spit roasted ham served with country beans or stewed beef and mashed potatoes. Each will include a side of seasonal vegetables.
Desserts include a choice of an apple tart, or campfire brownie. Soft drinks, tea, coffee and milk are included. Adult price is $33, children $19, plus tax. Reservations can now be made for March 13th through May 30th.
Turkey legs being removed from Animal Kingdom Menus
Changes look to be coming to the food items available at Disney's Animal Kingdom, including the removal of turkey legs from the menus. This change took place March 1.
At Flame Tree Barbecue, the turkey legs were removed from the offerings, but taking their place is a Full Rack of St. Louis Ribs; Roasted Chicken Salad with Mixed Greens; Ribs, Chicken and Pulled Pork Sampler Platter; and French Fries with Pulled Pork and Cheese.
Pizzafari will be serving a new Shrimp Flatbread Pizza and a Hearts of Romaine salad with shrimp. New side dishes and beverages include garlic butter knots, tomato soup, garlic dipping sauce, Mandarin Orange Lemonade, and Mandarin Orange Vodka Lemonade.
A Roasted Chicken Salad with Mixed Greens and a Chili-Cheese Hot Dog will come to Restaurantosaurus, along with New England Clam Chowder and Chili-Cheese Fries. The toppings bar will also get an upgrade, with the additions of sautéed onions, guacamole, and olive tapenade.
News source: Orlando Theme Park News
Be Our Guest Menu Price Increases
It appears that Disney has increased some of the prices at the Be Our Guest restaurant in the Magic Kingdom. Breakfast which was previously $22 has now been increased to $24 and no longer includes a beverage. Some of the lunch entrees have also gone up in price - the tuna salad will cost you $1 extra, the pork has increased by $2 and the roast beef sandwich is $3 more.
News source: disneyworld.disney.go.com
And the biggest news of the week ...
Disney Parks Adopt Seasonal Pricing on 1-Day Tickets
As of February 28th, Disney is shifting to seasonal pricing for 1-Day tickets.
How will it work? Each month is divided into value, regular and peak days with an 8-11 month calendar available for viewing online. Here's an example, if you plan your visit for September, you'll have a variety of options, including many days in the value period, which will give you the opportunity to pay less for a 1-Day ticket. If you plan to visit during a peak period, like the winter holidays you will pay more. Purchasing a 1-Day ticket in a non-peak period, or choosing multi-day ticket and annual passes, will provide additional flexibility and value.
In addition, although in the past 1-Day tickets for Walt Disney World Resort did not expire, 1-Day tickets sold on or after Sunday, Feb. 28 for Walt Disney World will expire at the end of the next calendar year. For example, 1-day tickets sold in 2016 will expire on Dec. 31, 2017. The amount paid for an unused, expired ticket may be applied towards the purchase of a new ticket at the current price.
News source: Disney Destination Travel News